St. Damien of Molokai Statue
Feast Day:     May 10
Born:            January 3, 1840, in Tremelo, Belgium
Died:             April 15, 1889, in Moloka'i, Hawaii
Full Name:   Jozef DeVeuster
Order:           Member of the Congregation of the Sacred Hearts of Jesus and Mary.
Fun Facts:     Saint Damien's Feast day was changed as he died on April 15, a date that falls during Lent. Instead, the church celebrates St. Damien on May 10, recognizing the day he arrived in Hawaii.
Jozef  de Veuster had three older siblings who entered the religious life. When he was 19 years old he entered the order of the Sacred Hearts of Jesus and Mary and became Br. Damien. 
He prayed daily before an icon of St. Francis Xavier. He was sent to Hawaii and ordained a priest there in 1944. Soon after he was sent to the island's newly established leper colony for what was supposed to be a temporary assignment. 
Father Damien found anarchy and brutal conditions with no treatment or care being given to the suffering.  This colony was a place where people were sent, cut off from family and friends, with no medical care and no hope, to die of a horrific, painful death from a flesh-rotting disease.
In spite of this, he volunteered to stay permanently despite the probability that he would suffer a painful undignified death from leprosy. 
He gave the lepers the love and care they had been cruelly denied. He would eat, touch, and embrace the suffering – something no one else was willing to risk. He believed that he wouldn't be able to reach the people spiritually without joining them physically, so he risked it all for the love of the Lord and His people. 
Father Damien gifted a visitor to the island a Bible, where he wrote the inscription:
"I was sick and ye visited me." – J. Damien de Veuster 
Saint Damien, a Man of Few Words
Father Damien worked tirelessly serving in extreme conditions.
And what did Damien share with his brother when asked how he was doing after 11 years of serving the lepers on a remote island? Damien, in his usual humble manner, had little to say, writing:
"As for me, I am still almost the same, except for my beard which is beginning to turn a little grey."
Robert Louis Stevenson and St. Damien
Soon after St. Damien's death, a protestant, the Reverend Doctor Hyde wrote a scathing commentary illustrating his extreme dislike of the Priest stating in part, "The simple truth is, [Father Damien] was a coarse, dirty man, headstrong, and bigoted."
It was not long before the famous author of the recently published and highly acclaimed Dr. Jekyll and Mr. Hyde, Robert Louis Stevenson clapped back. He wrote in part:
"You make us sorry for the lepers, who had only a coarse old peasant for their friend and father. But you, who were so refined, why were you not there, to cheer them with the lights of culture? Or may I remind you that we have some reason to doubt if John the Baptist were genteel; and in the case of Peter, on whose career you doubtless dwell approvingly in the pulpit, no doubt at all he was a 'coarse, headstrong' fisherman! Yet even in our Protestant Bibles, Peter is called Saint."
The scathing rebuke of the haughty Dr. Hyde went on:
""[T]he blue ribbon which adorns your portly bosom forbids me to allow you the extenuating plea that you were drunk when it was done."
And deals a final blow with:
"For, if that world at all remember you, on the day when Damien of Molokai shall be named Saint, it will be in virtue of one work: your letter to the Reverend H. B. Gage."
The Story of Father Damien
The Casa USA St. Damien Statue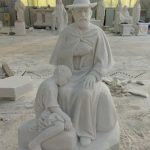 The St. Damien statue was carved in marble by Catholic artisans in Quyang, China – known as the "carving capital of the world." American Artist Joe Chovan created the design and served as the advisor to ensure the statue included the small details that tell the beautiful story of a Saint.
This 36″ statue is based on two photographs of Saint Damien.
As part of the artistic process, Joe studied St. Damien and was moved by his willingness to suffer to care for the suffering Jesus in his fellow man. 
The artists in China had to change the type of marble being used to be able to show the reality of the extreme disfigurement St. Damien suffered in order to serve God's people.
St. Pio, although there is no known Earthly connection to St. Damien, described this type of selfless service. St. Pio said:
"In every suffering man there is Jesus who suffers! In every poor man there is Jesus who is wretched! In every poor sick person there is twice Jesus, who is suffering & wretched!"
Saints Pio and Damien, pray for us!
Saint Damien is temporarily on display at Holy Spirit Catholic Church until the courts restore CHI's religious liberty and allow prayer on the 40 acre prayer campus in Howell, Mi.

The Statue will winter at St. Kieran Catholic Church in Shelby Township, Michigan. We will post the date of the move soon.