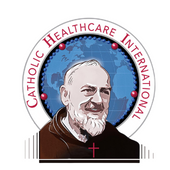 Saint Padre Pio, Institute for the Relief of Suffering, School of Osteopathic Medicine (*proposed-seeking accreditation)
A key pillar initiative for the Casa USA vision is the development of a truly faithful Catholic medical school that provides suitable formation for physicians and ancillary medical providers to practice as faithful Catholic professionals in our secular society. The Institute for the Relief of Suffering will be a uniquely Catholic medical school in the charism of St. Padre Pio and fully faithful to the Magisterium of the Catholic Church. The curriculum will include both the highest quality medical education for our students, and also critical fundamental Catholic components: Catholic medical ethics, the Theology of the Body, the Theology of Life, the Theology of Suffering, and Humanae Vitae.
Clinical rotations to St. Pio's Casa Hospital in Italy and exchange scientific & clinical lectureships will ensure that students enrolled in our Institute for the Relief of Suffering fully experience the healing charism of St. Padre Pio firsthand.
For more information, please contact Dr. George Mychaskiw or Jere Palazzolo.

In a day when abortion is seen by some as health care and gender dysphoria as something to celebrate rather than treat, plans to open a Catholic pro-life, pro-family medical school couldn't be timelier.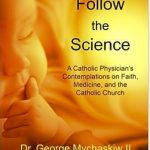 In this episode of Author to Author, Dr. Cynthia Toolin-Wilson interviews Dr. George Mychaskiw II on his book Follow the Science: A Catholic Physician's Contemplations on Faith, Medicine, and the Catholic Church.
Planned osteopathic school's graduates will bring the light of Catholic truth and bioethics to health care.

Medical assistance in dying (MAID) is set to expand in March 2023, extending eligibility to those with a mental illness.  
Dr. George Mychaskiw discusses the proposed St. Padre Pio Institute for the Relief of Suffering, School of Osteopathic Medicine.
FOR I HAVE COME TO BRING FIRE UPON THE EARTH
The Saint Padre Pio Institute for the Relief of Suffering, School of Osteopathic Medicine is an independent, separately licensed, accredited, governed and financed entity that will reside on the campus of Benedictine College, Atchison, KS.  It is not part of Benedictine College.  The Saint Padre Pio Institute for the Relief of Suffering, School of Osteopathic Medicine is proposed and seeking accreditation.  It is not yet licensed or accredited by any organization and does not have permission to recruit or solicit students, make offers of admission, or begin instruction, and nothing in this specification should be construed as such.
MEDICAL SCHOOL LEADERSHIP
Founder & President of CHI; Founder & President of Marian Medical Services, LLC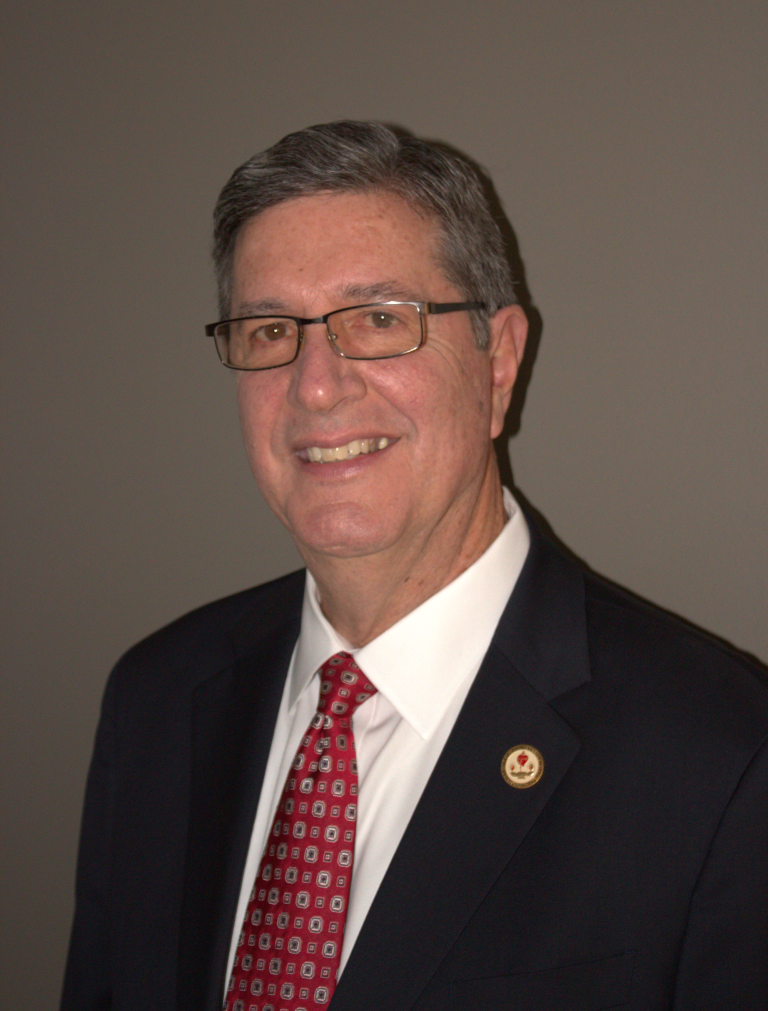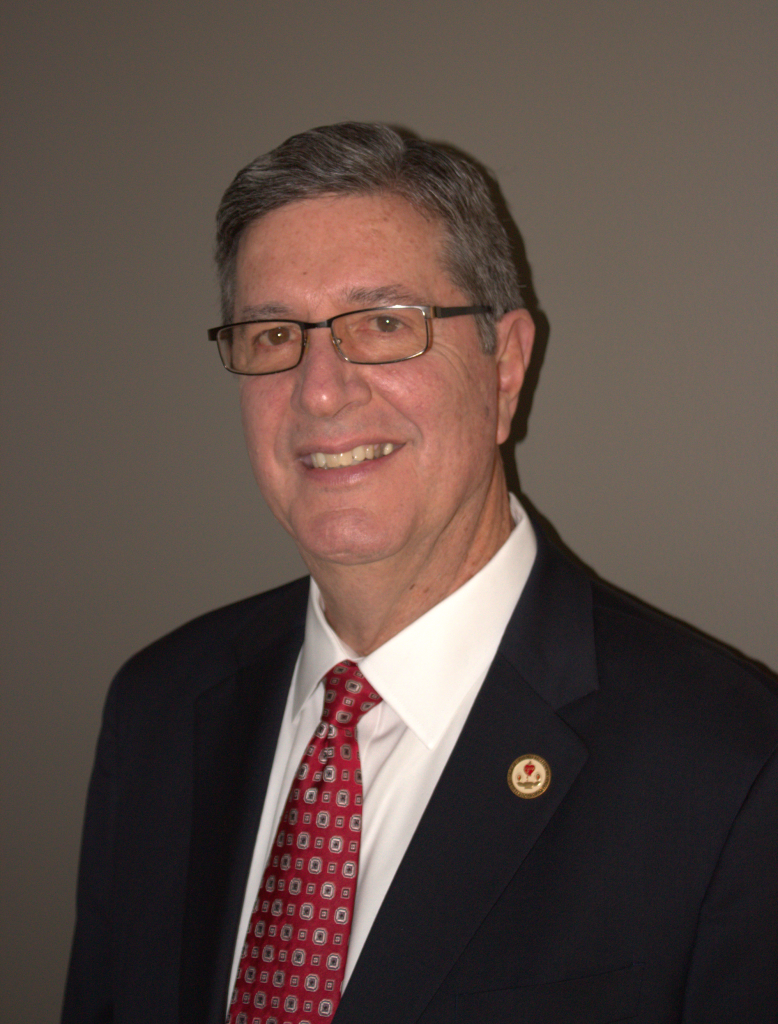 Jere Palazzolo has over 40 years of experience in executive leadership and the delivery of healthcare services. He received a Master of Healthcare Administration (MHA) from Washington University in St. Louis, Missouri.  Mr. Palazzolo has presented at national and local forums and has published several articles on current issues and trends in the delivery of healthcare services.
Inspired by the "Work" and charism of St. (Padre) Pio of Pietrelcina, Mr.Palazzolo founded the nonprofit apostolate Catholic Healthcare International. On October 1st, 2009, this apostolate signed a formal collaboration agreement with Padre Pio's hospital in Italy, the Vatican-owned Casa Sollievo Della Sofferenza (In English: The Home for the Relief of Suffering) for the expressed purpose of duplicating Padre Pio's "Casa" as a model of truly faithful Catholic healthcare delivery in the United States and other areas around the world. Catholic Healthcare International is now pursuing the active implementation of its comprehensive Casa USA Three Pillar Program in the Diocese of Lansing, Michigan, under the Episcopal leadership of Most Reverend Earl Boyea, Bishop of Lansing, that includes a faithfully Catholic medical school in the charism of St. Pio on the campus of Benedictine College in Atchison, Kansas.
Dr. George Mychaskiw, II, DO, FAAP, FACOP, FASA
Founding President and CEO, Saint Padre Pio Institute for the Relief of Suffering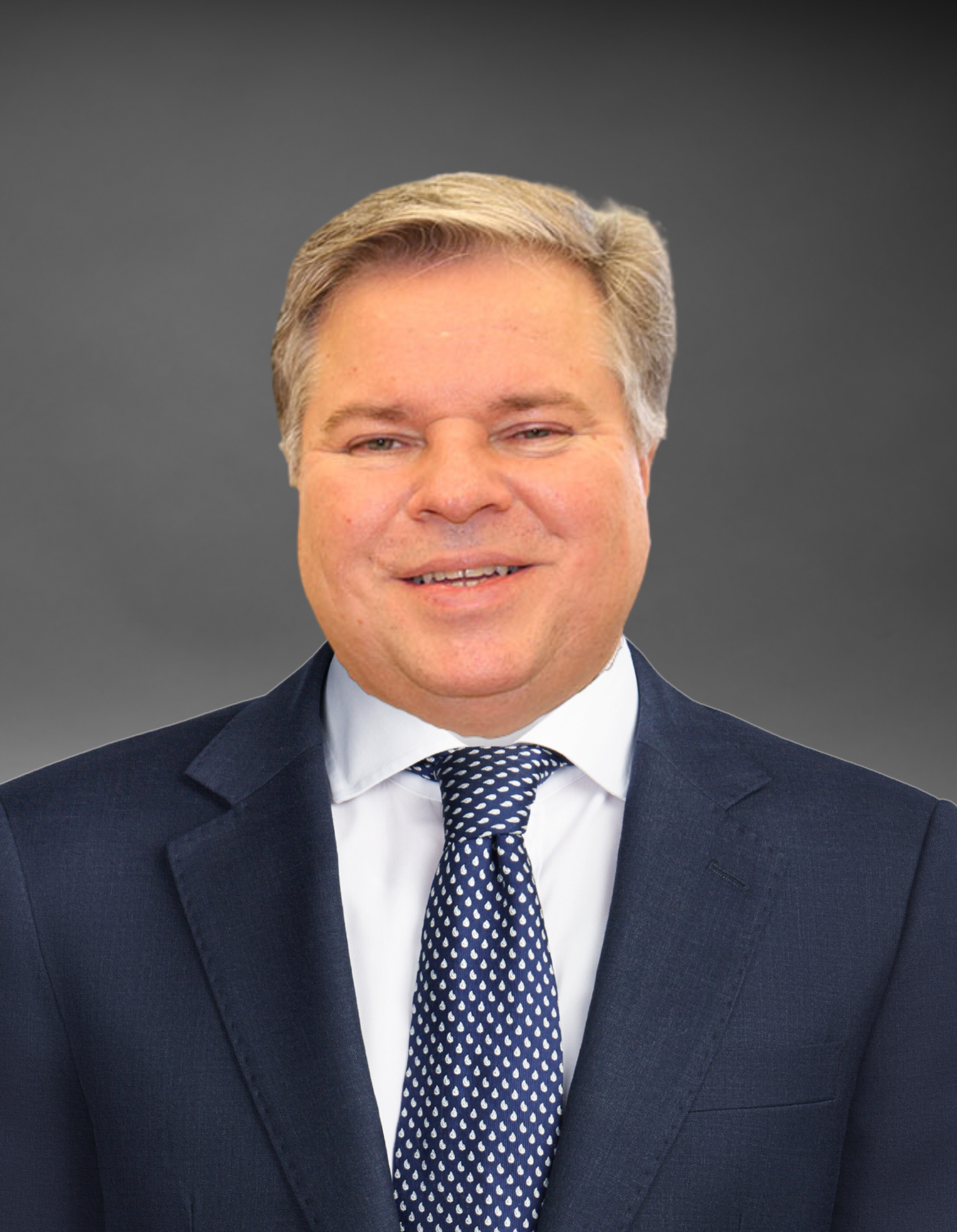 Dr. George Mychaskiw is Director of Perioperative Services, Professor and Vice-Chair of Anesthesiology at the Ochsner-LSU Health Science Center in Shreveport, LA. He received his medical degree from the Kansas City University, College of Osteopathic Medicine.  Dr. Mychaskiw completed fellowships in cardiac and pediatric anesthesiology at the Yale University School of Medicine, Yale-New Haven Hospital and was appointed as an assistant professor of anesthesiology in the cardiac and pediatric divisions at the Yale New Haven Hospital. He has also received training in hyperbaric medicine at the University of Texas, Galveston.
Mychaskiw is certified by the American Board of Anesthesiology, American Osteopathic Board of Anesthesiology and has been certified by the National Board of Echocardiography.
He is the author of numerous articles and book chapters and has been a visiting professor at many academic institutions in the US, Canada, China, India, the Philippines and Saudi Arabia. 
An authority in osteopathic medical education, Dr. Mychaskiw has been involved in the development of four Osteopathic medical colleges in the US, including the Burrell College of Osteopathic Medicine at New Mexico State University, where he served as Founding Dean and Chief Academic Officer.  Dr. Mychaskiw joined Salud Education to continue development of medical colleges to meet the health care needs of the country's underserved and vulnerable populations.
Father Timothy Nelson, MD
Board Member of CHI; Pastor, Saint Mary Star of the Sea Parish, Jackson, MI; Former Cardiologist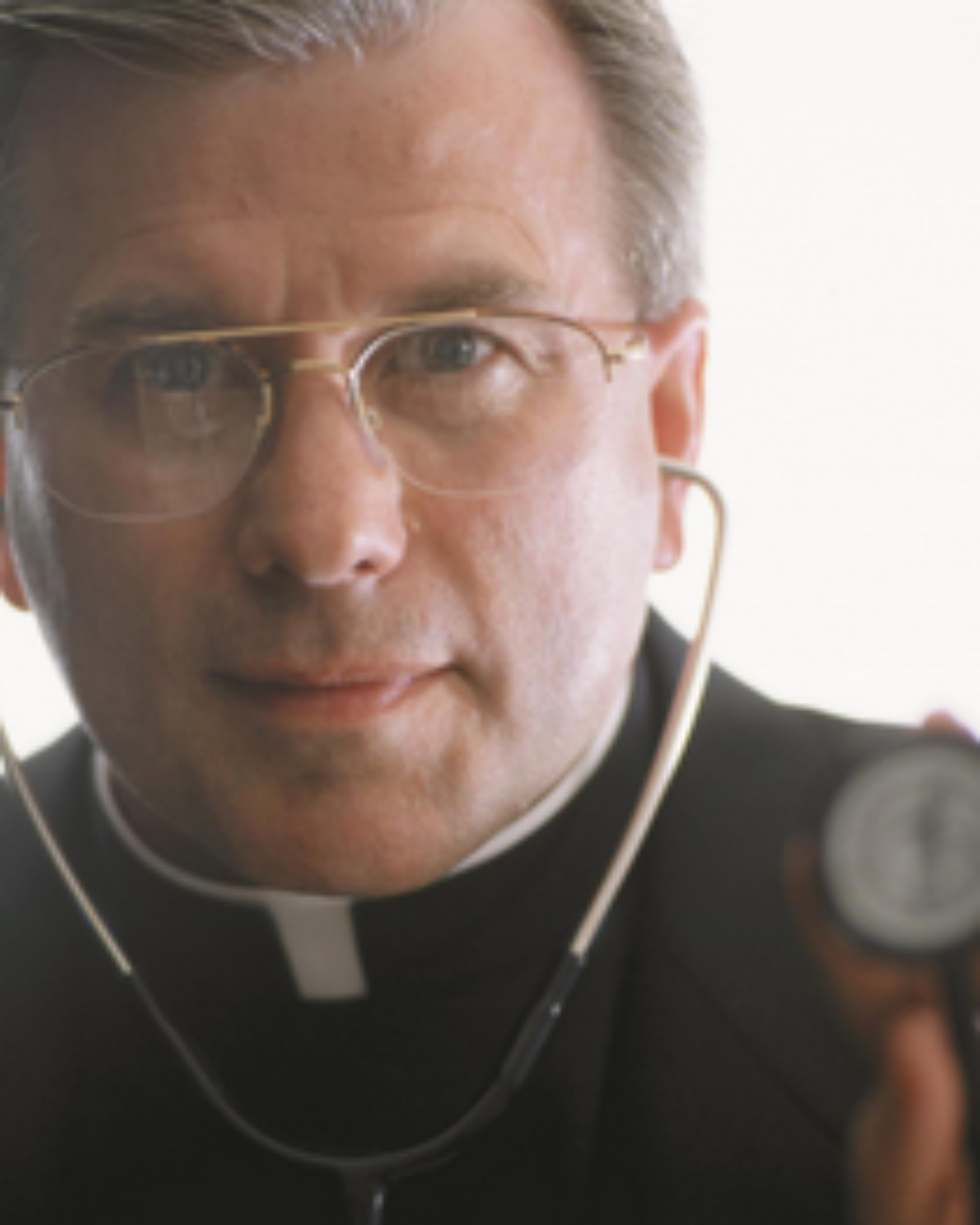 Father Tim Nelson is Pastor of Saint Mary Star of the Sea Parish and St. Stanislaus Chapel (Polish Community) in Jackson, Michigan. Fr. Nelson is also Chaplain to the Lansing Guild of the Catholic Medical Association, The Diocese of Lansing Cursillo Movement, The Diocese of Lansing Council of Catholic Nurses, and the Padre Pio Prayer Group of Jackson.
Father Tim is a former cardiologist who practiced medicine in Grand Rapids, Michigan until he entered Sacred Heart Seminary. 
Bishop Carl F. Mengeling ordained Father Tim on June 10, 2000.
President, Benedictine College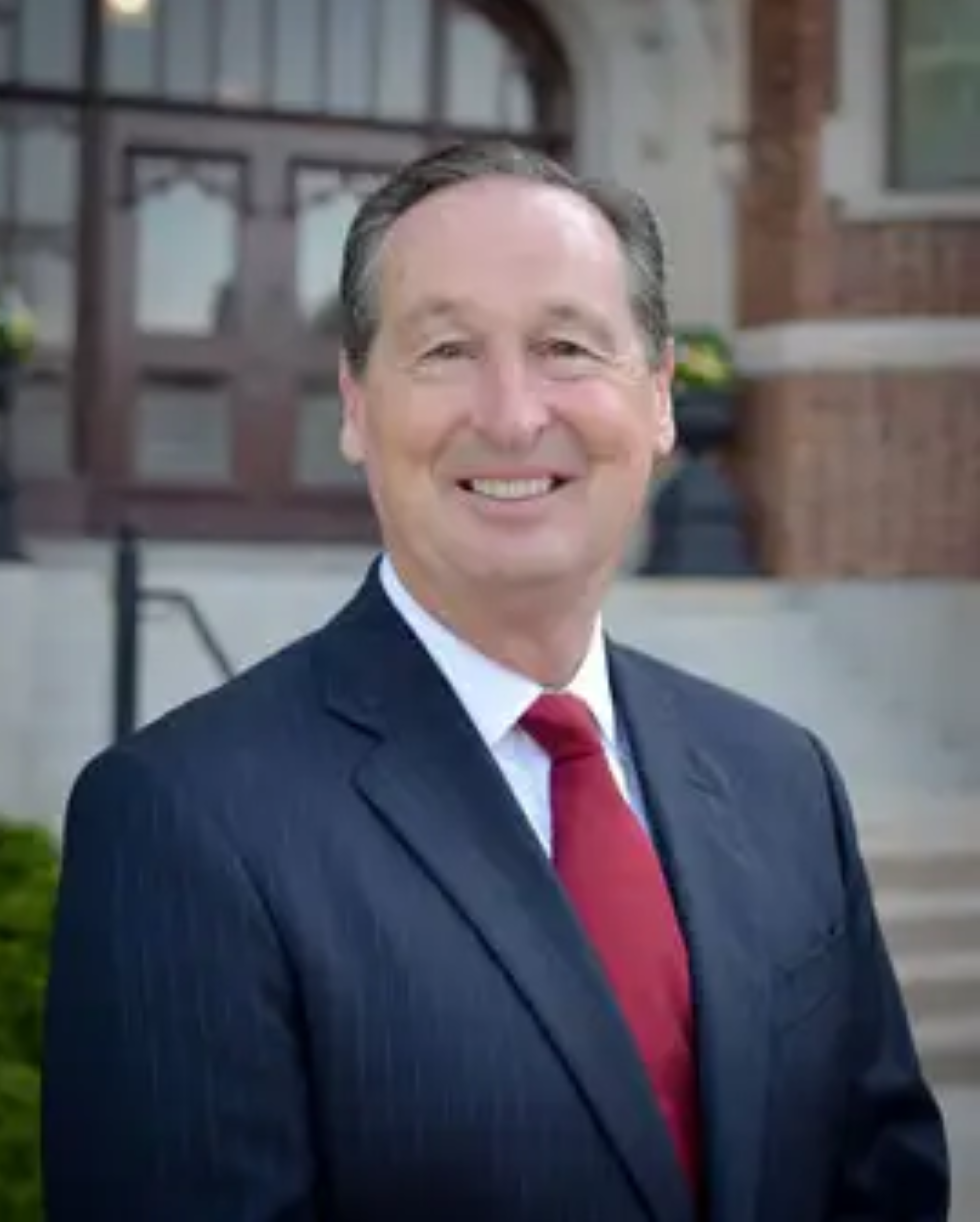 Stephen Minnis is widely regarded as one of the most dynamic and inspirational leaders in Catholic education today. A native of St. Joseph, MO, Minnis graduated from Benedictine College in 1982. He obtained his Juris Doctorate degree from Washburn University in 1985 and Master of Business Administration degree in 1993 from Baker University. He served as an Assistant District Attorney and as General Attorney, Director, regulatory policy at Spirit Corporation before becoming President of Benedictine College in 2004.
After serving as president of the Benedictine College Alumni Association from 1991 to 1995, Minnis joined the Benedictine College Board of Directors 1992, and in October 2004, he became president of the college.
Under his leadership Benedictine College has experienced enormous success. In his 16-year tenure as president, Minnis has added 11 new residence halls, three new chapels, seven new academic buildings, and guided the college to recognition as a top 10 ranked U.S. News & World Report school in its category. Benedictine is one of only 15 residential colleges in the Newman College Guide.
He was one of only five college presidents to be included on the Committee on Catholic Education Ex Corde Ecclesia Working Group in Baltimore in 2012, and he was invited by the Vatican to participate in the 2012 Pontificia Comisión Para América in Rome.
Marilyn E. Coors, Ph.D., Associate Professor Emerita of Bioethics
at the Center for Bioethics and Humanities at the University of Colorado Anschutz Medical Campus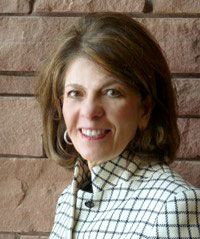 Marilyn E. Coors is Associate Professor Emerita of Bioethics at the Center for Bioethics and Humanities at the University of Colorado Anschutz Medical Campus. The ethical issues in clinical and behavioral genomic research were the foci of her research, teaching, and professional service. Coors was on the faculty of the Department of Psychiatry, Director of Research Ethics for the Colorado Clinical and Translation Science Institute, Affiliate member of Colorado University Division of Substance Dependence, Affiliate Faculty of the Division of Biomedical Informatics and Personalized Medicine, and Faculty Fellow of Colorado University Institute of Behavioral Genetics.
Dr. Coors received her undergraduate education from Cornell University where she majored in biological sciences. She then attended the University of Denver, earning a M.S. in cytogenetics, M.A. in ethics and religion, and Ph.D. in bioethics. She has served on Boards of Directors related to health, education, and the Catholic faith. Currently, Coors is a member of the Boards of the Gates Institute for Regenerative Medicine, National Catholic Bioethics Center and Educating on the Nature and Dignity of Women organization (ENDOW).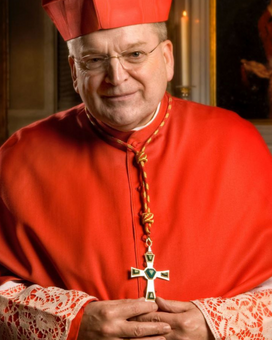 Born in 1948 in Richland Center, Wisconsin, Raymond Leo Burke attended seminary in La Crosse, Wisconsin, Washington, D.C., and Rome, where he was ordained a priest by Pope Saint Paul VI in 1975. Ordained a bishop in 1995 by Pope Saint John Paul II, he served for almost nine years as Bishop of La Crosse, where he founded the Shrine of Our Lady of Guadalupe, and over four years as Archbishop of St. Louis. 
He was named a cardinal in 2010 by Pope Benedict XVI. Cardinal Burke has written and spoken widely on Roman Catholic canon law, the Holy Eucharist, devotion to the Sacred Heart of Jesus, devotion to Our Lady of Guadalupe, and the sanctity of human life. He is a member of the Supreme Tribunal of the Apostolic Signatura.
Archbishop Salvatore Cordileone
Archbishop of San Francisco, CA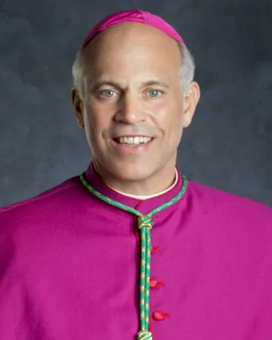 On March 23, 2009, Pope Benedict XVI appointed Bishop Cordileone as the fourth Bishop of Oakland. His Mass of Installation was celebrated on May 5, 2009 at the Cathedral of Christ the Light, Oakland. Three years later, on July 27, 2012, he was appointed the Archbishop of San Francisco and was installed on October 4, 2012, the Feast of St. Francis of Assisi, at the Cathedral of St. Mary of the Assumption.
As the new Metropolitan Archbishop of the Province of San Francisco, Archbishop Cordileone received the pallium from Pope Francis in Rome on June 29, 2013. 
Archbishop Cordileone serves as Chairman of the United States Conference of Catholic Bishops (USCCB) Committee on Laity, Marriage, Family Life and Youth and so is also a member of the Administrative Committee of the USCCB, and he is a member of the USCCB Committee for Canonical Affairs and Church Governance as well.  He currently also serves on the USCCB Ad Hoc Committee Against Racism, Subcommittee on the Catechism, and Eucharistic Revival Bishops' Advisory Group. In addition, the Archbishop serves on a number of boards to support Church efforts beyond the USCCB, including the Catholic Benefits Association/Catholic Insurance Company, Cross Catholic Outreach Board of Directors, the Courage Apostolate Episcopal Board, the Governing Board of the International Theological Institute in Trumau, Austria, and is a founding member of the Episcopal Advisory Board of the Catholic Healthcare Leaders Association. The Archbishop also serves as the Prior of the American Delegation of the Sacred Military Constantinian Order of Saint George.
Archbishop Joseph Naumann
Bishop of the Archdiocese of Kansas City, KS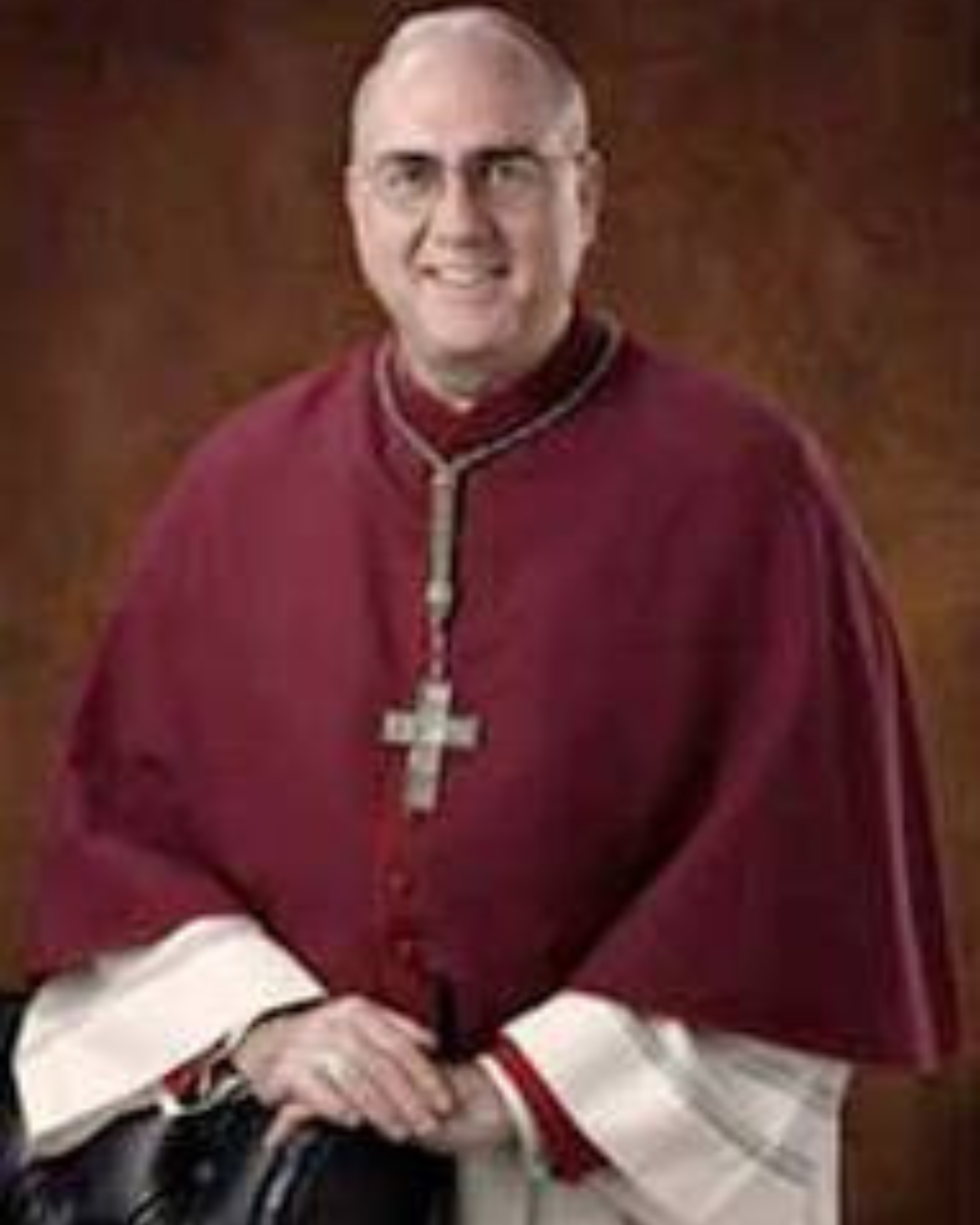 The Most Reverend Joseph F. Naumann was installed as the 4th Archbishop and the 11th Bishop of the Archdiocese of Kansas City in Kansas on January 15, 2005.
His chosen episcopal motto is, "Vitae Victoria Erit" (Life will be Victorious).  Archbishop Naumann has championed the cause for the right to life throughout his ministry. He seeks to lead his flock in upholding and promoting the immense dignity of every human person from conception to natural death.
Through education and evangelization, Archbishop Naumann seeks to facilitate opportunities for encounters with the person of Jesus Christ, winning disciples that will live the Joy of the Gospel and lead others to Christ by the fruit of their lives.
Archbishop Naumann was born on June 4, 1949, in St. Louis, Missouri. He was ordained to the priesthood on May 24, 1975, and Auxiliary Bishop of St. Louis/Titular Bishop of Caput Cilla on September 3, 1997. He was appointed as Coadjutor Archbishop of Kansas City in Kansas on January 7, 2004, and assumed responsibilities as Archbishop on January 15, 2005.
Bishop of the Diocese of Lansing, MI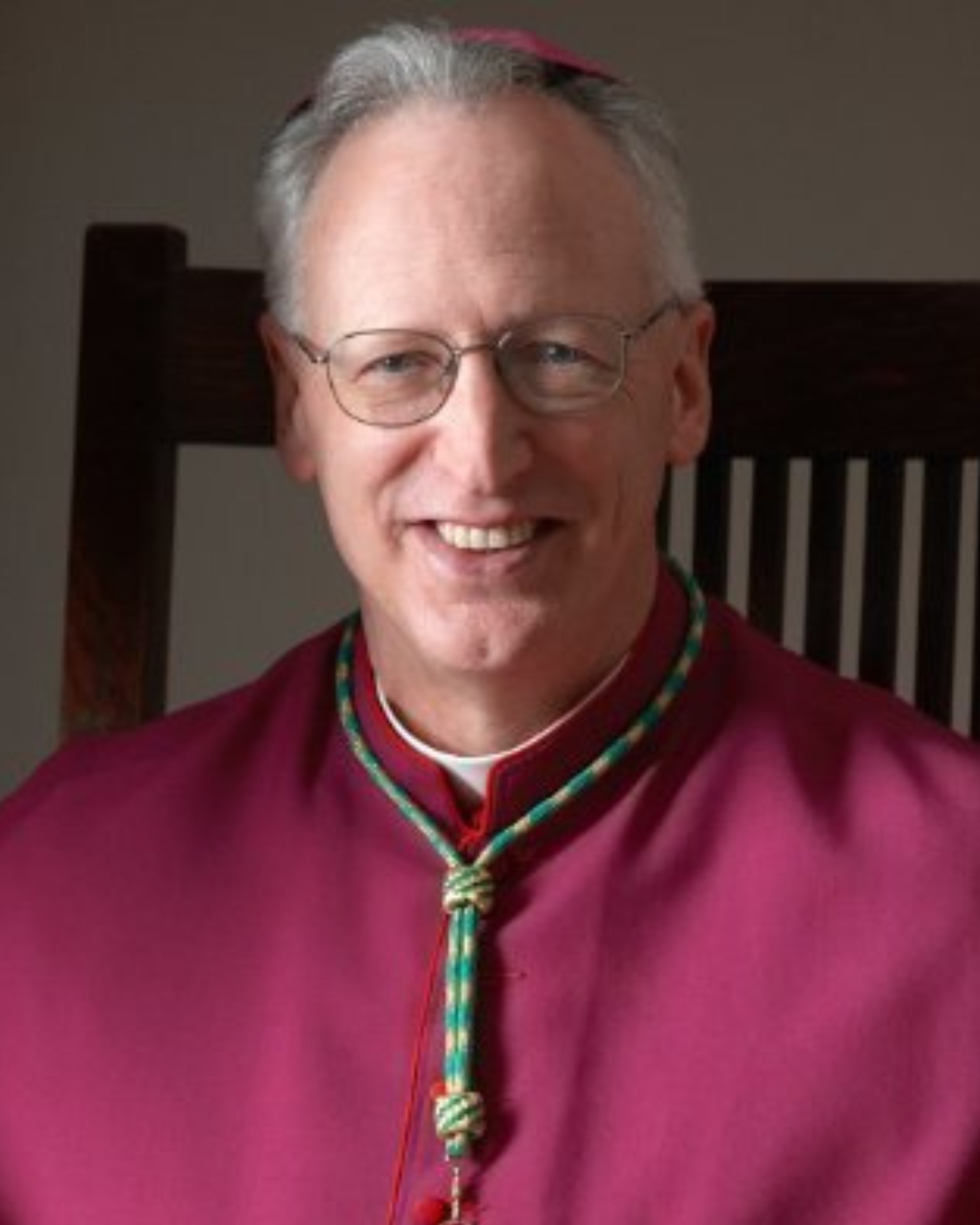 On July 22, 2002, Msgr. Boyea was appointed Auxiliary Bishop of Detroit and Titular Bishop of Siccenna by Pope John Paul II. He received his episcopal consecration on the following September 13 from Cardinal Adam Maida, with Archbishop Timothy P. Broglio and Bishop Thomas Joseph Tobin serving as co-consecrators. During his tenure as an auxiliary, Bishop Boyea served as Regional Bishop for the South Region (2002–2003) and for the Northeast Region (2003–2008) of the archdiocese.
Pope Benedict XVI named M the fifth Bishop of Lansing on February 27, 2008.  Bishop Boyea was formally installed as Lansing's ordinary on April 29, 2008.
Bishop Boyea currently serves as the Episcopal Moderator of the United States Association of Consecrated Virgins, and on the Board of Directors of the Michigan Catholic Conference. Within the United States Conference of Catholic Bishops, he sits on the Committee on Clergy, Consecrated Life and Vocations, having formerly sat on the Committee on Boundaries of Dioceses and Provinces and on Priestly Formation and Committee on Selection of Bishops.  Bishop Boyea also belongs to the Catholic Biblical Association, Fellowship of Catholic Scholars, and American Catholic Historical Association.
Bishop of the Diocese of Lincoln, NE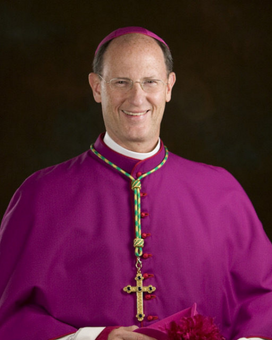 On April 10, 2008, Pope Benedict XVI announced the appointment of Rev. Msgr. James D. Conley as auxiliary bishop for the Archdiocese of Denver. Denver Archbishop Charles J. Chaput, O.F.M. Cap., ordained him as the new auxiliary bishop on May 30, 2008, the solemnity of the Sacred Heart, at Denver's Cathedral Basilica of the Immaculate Conception. As auxiliary bishop, he assisted Archbishop Chaput in the pastoral care of the archdiocese.

On Sept. 8, 2011, the Vatican's Congregation for Bishops announced that due to the appointment of Archbishop Chaput as archbishop of Philadelphia, Bishop Conley was named apostolic administrator of the Denver Archdiocese. An apostolic administrator is appointed by the pope to lead a diocese during the "sede vacante" (vacant see) period between bishops. Thus, Bishop Conley was entrusted with the authority of the diocesan bishop to teach, sanctify and lead Catholics residing within northern Colorado until Bishop Samuel Aquila of Fargo, N.D., was installed as archbishop of Denver on July 18, 2012. With the installation of Archbishop Aquila, Bishop Conley resumed his former title of auxiliary bishop.

On Sept. 14, 2012, Pope Benedict XVI appointed Bishop Conley as the bishop of the Lincoln Diocese in Nebraska. Bishop Conley was installed as the ninth Bishop of Lincoln on Nov. 20, 2012 in the Cathedral of the Risen Christ in Lincoln.
Bishop of the Diocese of Tyler, TX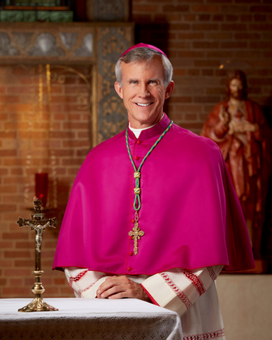 After completing his licentiate (JCL) in canon law in May of 1994, Father Strickland was assigned by Bishop Edmond Carmody as pastor of the Cathedral of the Immaculate Conception in Tyler. He was appointed judicial vicar for the diocese in 1995 and was named a Prelate of Honor with the title of Monsignor by Pope John Paul II in 1996.
When Bishop Carmody was named Bishop of Corpus Christi in March of 2000, Mgr. Strickland was elected diocesan administrator for Tyler and served in that capacity until January of 2001 when Bishop Álvaro Corrada was installed as the third Bishop of Tyler.
In 2010, Msgr. Strickland was appointed vicar general of the diocese, and when Bishop Corrada was trasnfered to Mayagüez, Puerto Rico in 2011, Strickland was appointed delegate of the apostolic administrator for Tyler.
In September of 2012, Pope Benedict XVI named Msgr. Strickland as the fourth Bishop of Tyler. He was consecrated as bishop on November 28, 2012 by Cardinal Daniel DiNardo of Galveston-Houston.
.
Deacon of the Free Church of England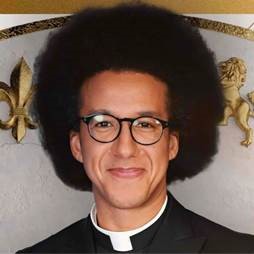 Father Robinson is a passionate deacon, journalist, policy advisor, and political commentator who is dedicated to promoting the gospel of Christ in modern society. He is a regular contributor to GB News and Talkradio, and his work has been featured in The Telegraph, Daily Mail, and other major media outlets.
Father Robinson was called by God to put Christian values in the media industry. He trained to become a priest in the Church of England and attended classes at Oxford University. However, he left the Church of England in 2017 when it began to bless same-sex marriage, which he views as an abomination according to the Bible.
In a 2017 speech at the Oxford Union, Father Robinson argued in a clear, concise and unapologetic manner that Christianity should not allow gay marriage.
Father Robinson is a courageous and outspoken advocate for traditional Christian values.