Padre Pio Mural in the Natural Tree 'Grotto'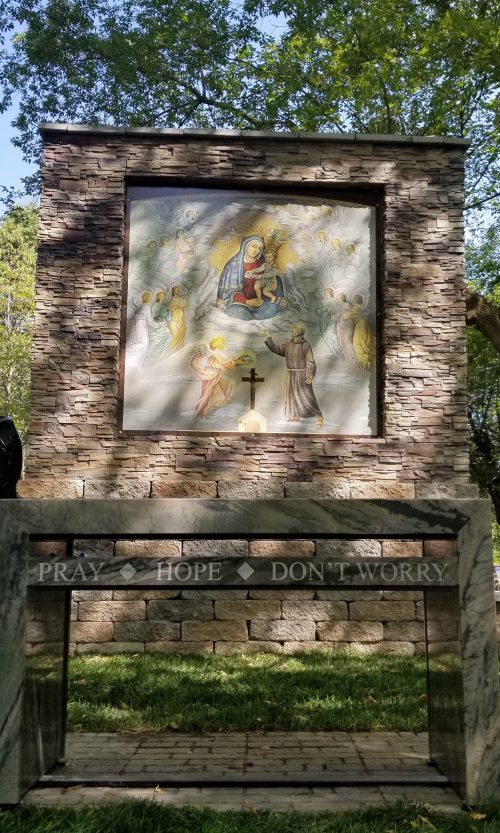 The Grotto
The Grotto is the first visible sign of the Home for the Relief of Suffering project.
The Mural is temporarily nestled in a cathedral, or 'grotto', of trees and features Padre Pio's favorite painting – Our Lady of Grace.
A beautiful altar is in place for the celebration of Mass on the grounds. Please join us in this call to build a peaceful, prayerful place in our suffering world.
The Grotto Christening:
September 23, 2020
The Feast Day of St. Padre Pio
Frequently asked questions
When will the building of the Grotto begin?
The mural, built by Hernan, located in the natural grotto of tress, is completed in design and is temporarily constructed on the campus property in Howell, MI. After permits are granted, permanent footings will be installed. The Prayer Campus is located at 3280 Chilson Rd. Howell, MI.
Pray and Padre Pio will guide you. He has led us to the project, and we know you are a part of this story. Check out the pictures below and the list above and see if there is anything you can help with or donate and pray. We don't know what, but we know we need you. If you are located near 3280 Chilson Rd, Howell, MI, check out the St. Pio Crew Volunteer page.
Where is this Grotto and Adoration Chapel location?
In Howell, Michigan. 3280 Chilson Rd.
What is the significance behind the picture on the Grotto?
This depiction of Our Lady of Grace is painted on the wall and ceiling behind the altar in the church of San Giovanni Rotondo, where Padre Pio had his ministry. This painting was Padre Pio's favorite and he prayed daily in front of it. In the painting, Baby Jesus is reaching for nourishment from his mother, which represents grace. We are also the children of Mary, and Jesus invites us to partake of this grace.
If you would like information about providing in-kind gifts or services to the building of the Grotto or Chapel contact us using the button below: