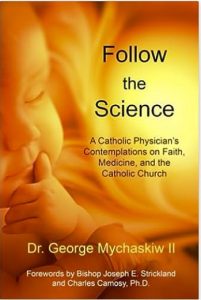 We are excited to announce the publication of Dr. George Mychaskiw's book, Follow the Science: A Catholic Physician's Contemplations on Faith, Medicine, and the Catholic Church, with forewords by Bishop Strickland and Charles Camosy, PhD.
Dr. Mychaskiw is the founding president of our Saint Padre Pio Institute for the Relief of Suffering, School of Osteopathic Medicine.
Do you ever wonder if the scientific world has lost its compass?
Does it seem like the Catholic Church is increasingly irrelevant in a culture of death and secular self-interest?
Is there no behavior too outrageous, offensive or preposterous enough for a civilized society to protest?
In this book, Dr. George Mychaskiw, a faithful Catholic, pediatric cardiac anesthesiologist takes an unvarnished, direct and unapologetically Catholic look at some of today's most important bioethical and episcopal issues, including:
The common arguments supporting abortion on demand and why they are simply invalid.
The irrational and non-scientific basis for gender ideology.
The modern slavery of in vitro fertilization and surrogacy.
The contemporary genocide against the disabled, elderly and other "inconvenient" people.
Perversion of politics and the criminal justice system.
The silent and cowardly Catholic Church.
And many more. This is a call to arms. A plea and guidebook for taking back the culture of death, restoring respect for life and motherhood, and setting the Church in its place as the standard-bearer for ethical behavior. Society is in decline and, unless prompt action is taken, it will collapse to a Hobbesian dystopia that is solitary, poor, nasty, brutish and short.