It was the vision of the original Founders to develop a worldwide network of Padre Pio's hospitals to touch the lives of those in need everywhere. This dream was very eloquently articulated in 1950 by Dr. Guglielmo Sangguinetti, Padre Pio's first Director of Implementation of the Casa:
"The Casa Sollievo della Sofferenza should therefore be the first link in a great chain. It should be the model for many other, innumerable Casa's with the same name and above all the same spirit, which must bring love to all of humanity. A program which would make us tremble with awe, if it was not inspired by God who is above all love!"
Catholic Healthcare International was incorporated in July 2004 on an inspiration from Padre Pio to be the vehicle to implement this vision. After several years of prayer, discernment, preparation and foundational work, a formal Collaboration Agreement was signed on October 1st, 2009 with the Casa Sollievo della Sofferenza to begin the work of duplicating Homes for the Relief of Suffering around the world.
Collaboration Agreement Objectives:
Duplicate Padre Pio's Home ForThe Relief of Suffering in the United States and other areas around the world.
Emulate the structure, name, operation, organization, etc. as closely as possible to that of Padre Pio's Casa.
Maintain absolute loyalty to the Magisterium of the Catholic Church.
Operate the new network of Casa's as "Clinics for the Body & the Soul" for our "guests" (From the words of Padre Pio).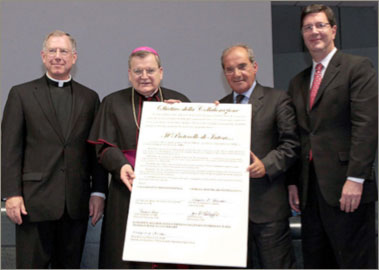 Ultimately, it is the goal of this Collaboration Agreement to duplicate the model of Catholic healthcare, executed so successfully by Padre Pio and his successors, for those in need of relief from suffering in various other areas of the world.